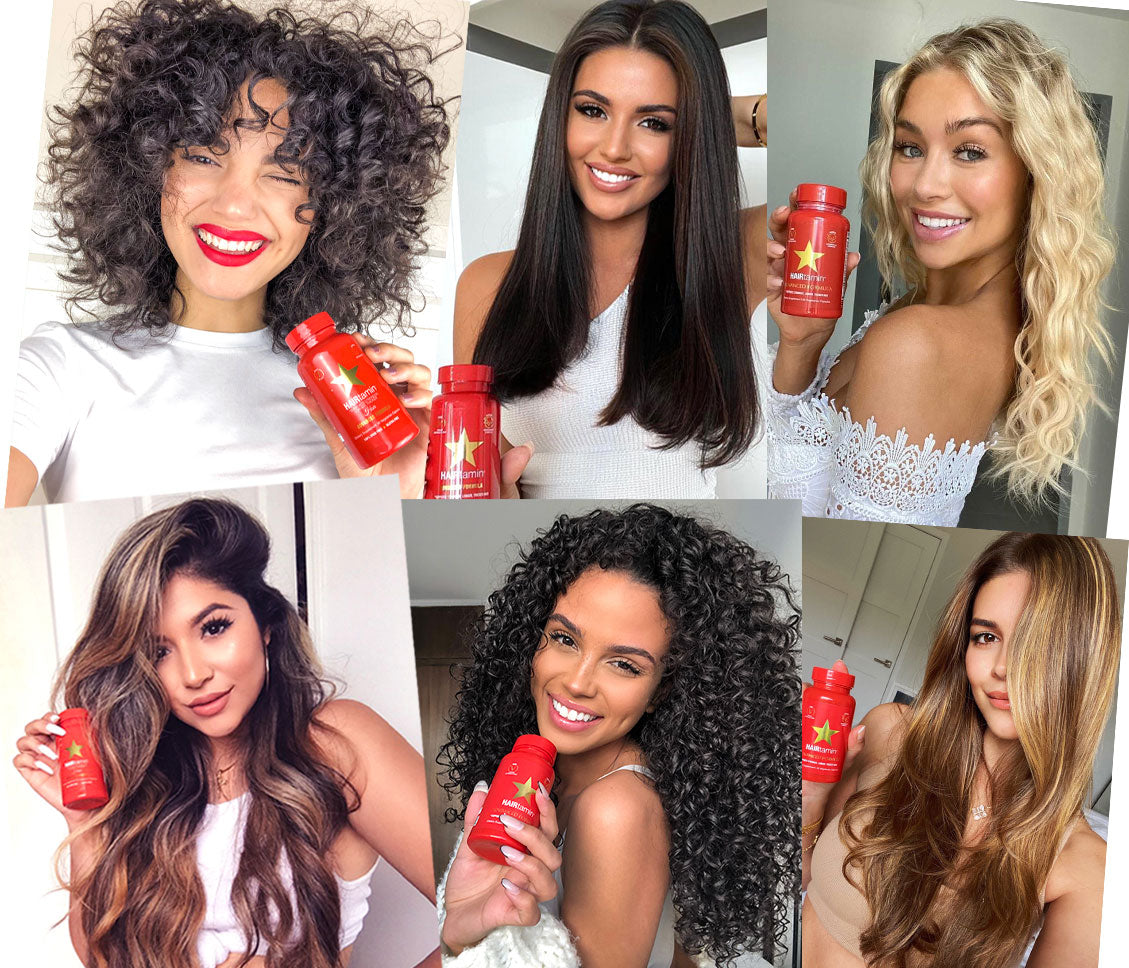 Get Our All-Natural Advanced Formula To
Help support STRONGER, LONGER, THICKER-Looking HAIR growth!
5600+ 5 Star Reviews
Let's Grow
100% Clean
& Vegan
Cruelty
Free
Allergen
Free
Gluten
Free
Nothing
Artificial
Moneyback
Guarantee
One Word: Results!
*Real progress photos submitted by real customers
Love your results or it's free!
Try HAIRtamin for 3 months risk-free with our 100% money back guarantee.
Advanced Formula

1 Month Supply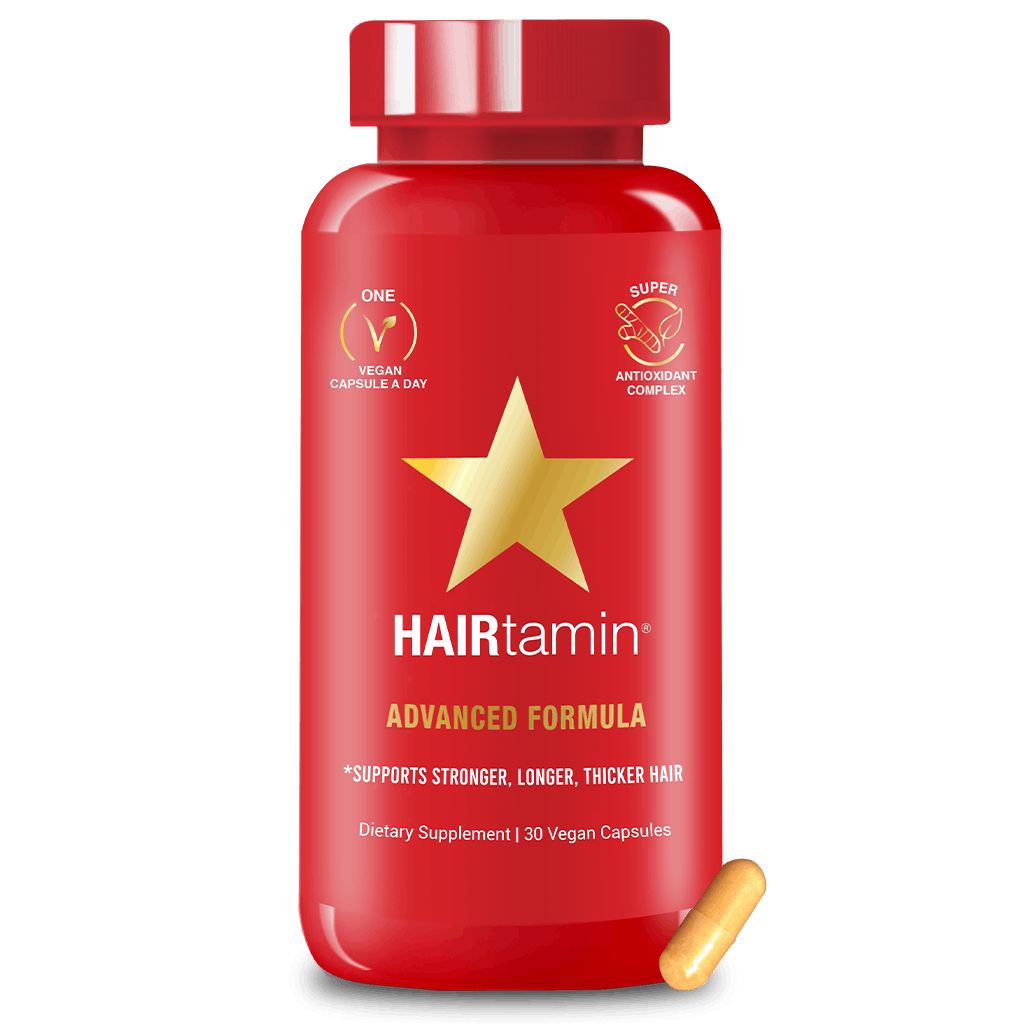 5,600+ 5 Star Reviews
Try one bottle of our best-selling hair growth formula.
Regular price:
$26
Sale price
now
$20.80
3 x Advanced Formula

3 Month Supply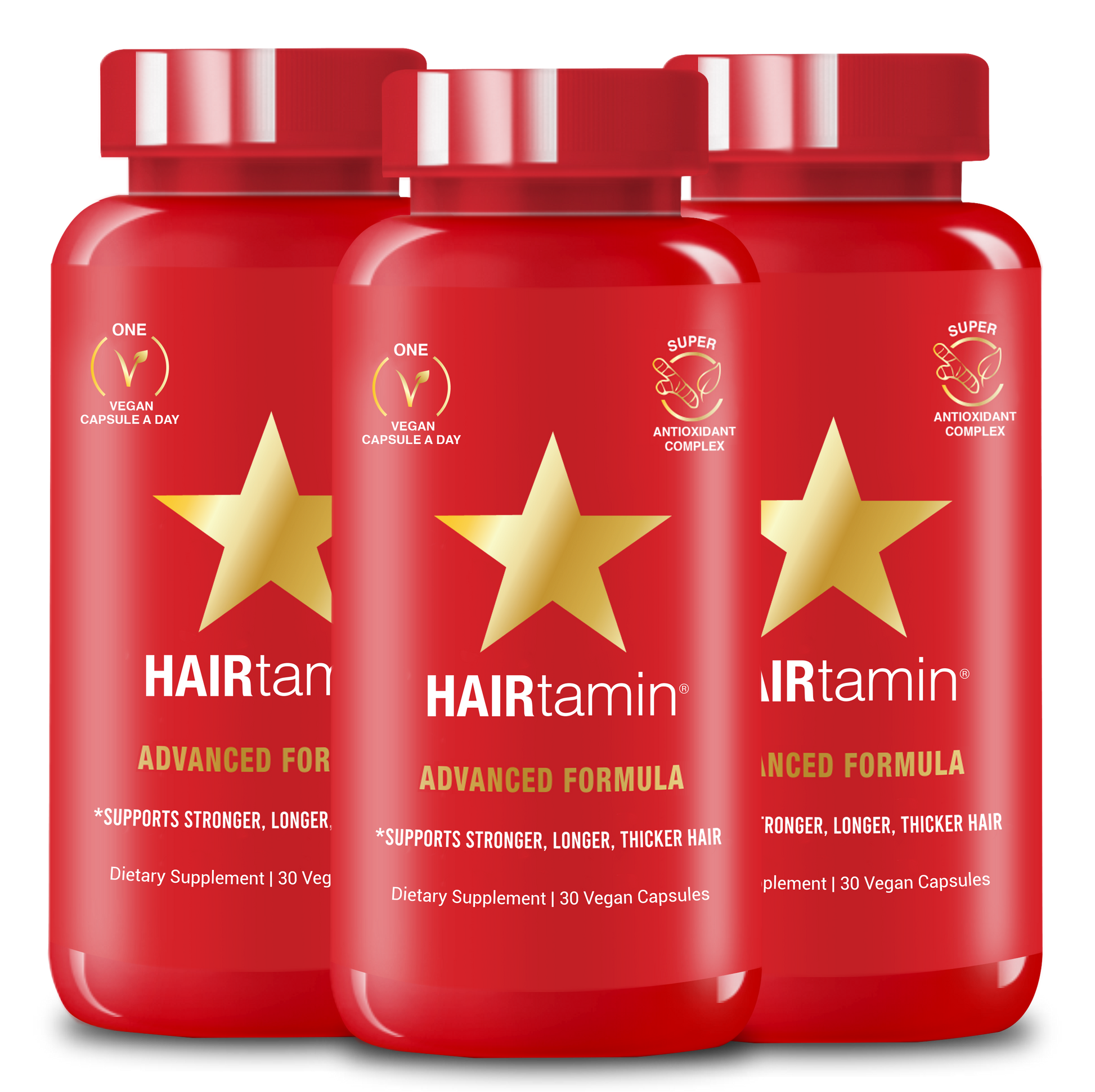 5,600+ 5 Star Reviews
The amount you need to see results.
Regular price:
$78
Sale price
now
$49.60
6 x Advanced Formula

6 Month Supply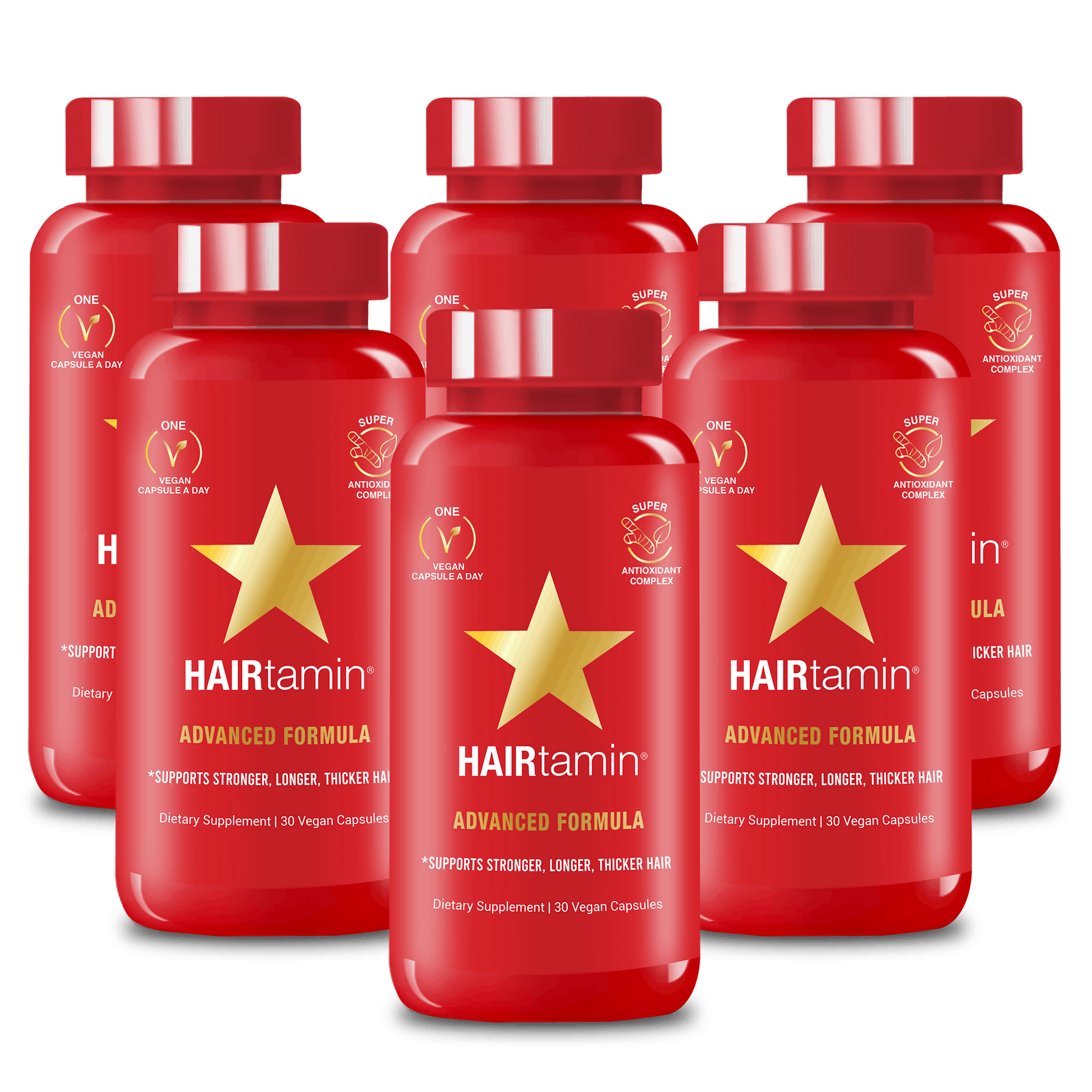 5,600+ 5 Star Reviews
You're committed to your hair goals and want to grow and maintain stronger, longer, thicker-looking hair. Best Value!
Regular price:
$156
Sale price
now
$93.60
100% Clean, Hair-Loving Nutrients
in one easy-to-take vegan capsule a day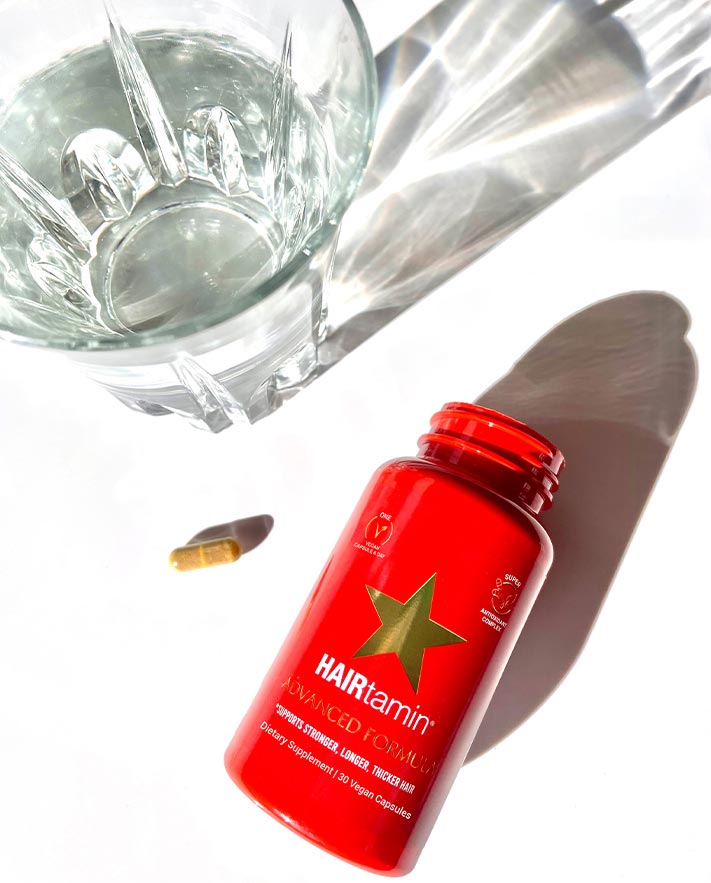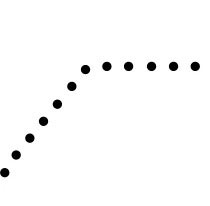 Metabolizes fats and protein to support healthy hair, skin & nails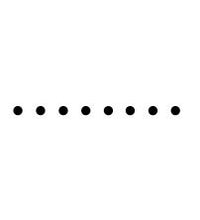 Promotes collagen production, an essential component of healthy hair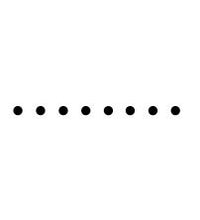 Helps reduce inflammation and hair loss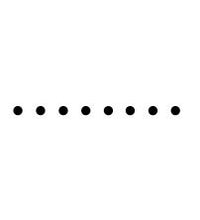 An essential trace mineral that helps reduce thinning & shedding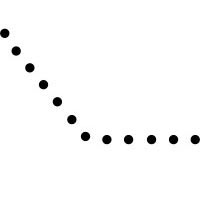 Anti-inflammatory that helps reduce hair shedding & promote scalp health for optimal growth
HAIRtamin

vs. Other Brands
HAIRtamin
Other
1 a Day
5,000 mcg Biotin
Antioxidant Complex
Vegan
Gluten-Free
Zero Calories/Carbs/Sugars
Cruelty-Free
Allergen-free
Affordable
Money Back Guarantee
Questions
When will I see results?

Every person's hair journey will vary, but on average, our customers have reported noticeable results after 60 days of continued use. To ensure your HAIRtamin journey is a success, remember to take your vitamins regularly, drink plenty of water, use gentle yet effective hair care products (see our BIOTIN SHAMPOO + CONDITIONER) limit the use of heat styling products and get regular trims.
Will advanced formula work on my hair type?

Advanced Formula works on all hair types and textures.
Will I grow hair on other parts of my body?

The hair on your body does not grow in the same manner as the hair on your head. Hair follicles on the body get a molecular signal to only grow to a certain point. This differs from hair on the head, which can continuously grow. HAIRtamin only stimulates hair growth in existing follicles and not in otherwise hairless areas.
Can pregnant or nursing mothers take advanced formula?

Always consult with your doctor before starting any new dietary supplement-especially when you have a pre-existing health condition and/or are pregnant. While our ADVANCED FORMULA and GUMMY STARS are generally considered safe by doctors, we created HAIRtamin MOM specifically for expecting and postnatal women. It supports you, your baby, and yes-YOUR HAIR! It's still just 1 vegan capsule a day and loaded with essential nutrients you and your baby need to grow. You can find our ingredient list here.
What is the difference between advanced formula and gummy stars™?

The Advanced Formula contains a powerful mix of vitamins, minerals and antioxidants that help stimulate healthy hair growth. If you prefer to take your vitamin in gummy form, our The Gummy Star vitamins are also a great choice and have the same objective, help you achieve healthy beautiful hair! While both formulas contain 5000 mcg of Biotin along with a powerful antioxidant complex, the capsules are slightly more potent containing a few more vitamins and herbs in a higher dosage.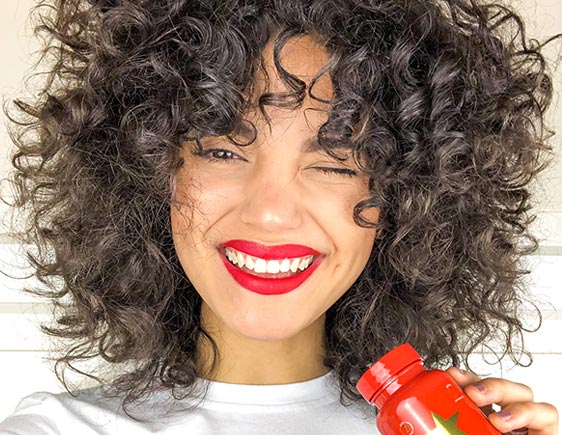 100% Money Back Guarantee!
LOVE YOUR RESULTS or IT'S FREE!
Advanced Formula Ingredients Panel
Supplement Facts
Serving Size 1 Vegan Capsule
Servings Per Container 30
IngredientAmount per serving% Daily Value
Vitamin A (as Retinyl Palmitate)
150 mcg
17%
Vitamin C (as Ascorbic Acid)
50 mg
56%
Vitamin D3 (as Cholecalciferol)(vegan)
1 mcg
5%
Thiamin (Vitamin B1 as Thiamine HCI)
2.5 mg
208%
Riboflavin (Vitamin B2)
2.5 mg
192%
Niacin (Vitamin B3 as Niacinamide)
2.5 mg
16%
Vitamin B6 (as Pyridoxine HCI)
2 mg
118%
Folate (Vitamin B9 as Folic Acid)
400 mcg DFE
100%
Vitamin B12 (as Cyanocobalamin)
10 mcg
417%
Pantothenic Acid (Vitamin B5 as D-Calcium Pantothenate)
10 mg
200%
Zinc (as Zinc Citrate)
15 mg
136%
Selenium (as Sodium Selenite)
70 mcg
127%
HAIRtamin Advanced Proprietary Blend
242 mg
*
Bacopa Monnieri Leaf Extract
Rosemary Leaf Powder
Stinging Nettle Root Powder
Lutein 5%
Horsetail Extract 4:1
Turmeric Root Extract (95% Curcumin)
Cayenne Fruit Powder
Black Pepper Seed Extract (95% Piperine)
* Daily Value not established.
Other Ingredients: Vegetable Cellulose (Capsule), Rice Flour
Does NOT contain the following allergens: dairy, eggs, fish, wheat, crustaceans, tree nuts, peanuts, soy