5 reasons why 1,526,478+ women have switched to hairtamin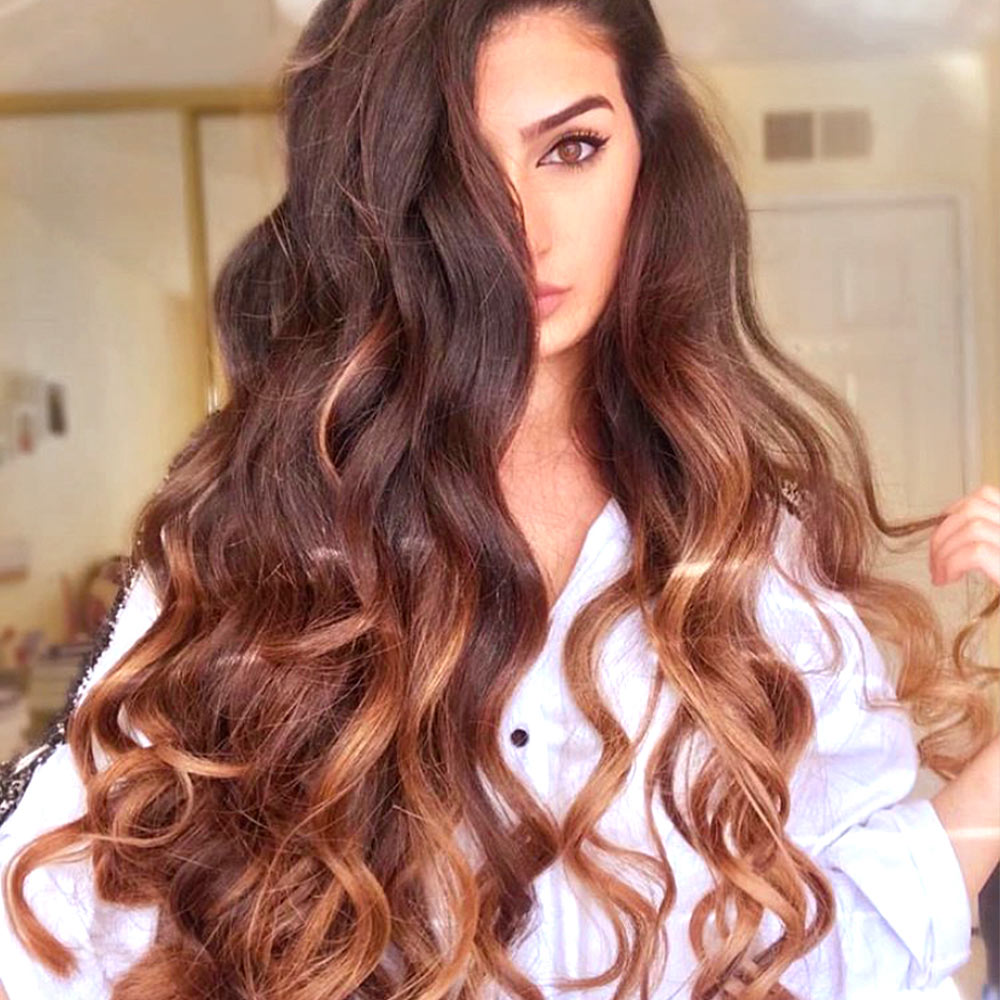 1. Real Results
Whether you're 18 or 80, you can benefit from the powerful nutrients in HAIRtamin. We all have different concerns when it comes to our hair. Some of us want faster hair growth, or want to stop the thinning or shedding they're seeing, or just want to infuse more life into their hair to improve its shine and manageability, or all of the above. Our award-winning formula is packed with 22 bioavailable nutrients that deliver real results for women and men. The proof is in the thousands of real before and after results that are sent to us and shared across our social media from real customers that are growing and loving their hair thanks to HAIRtamin.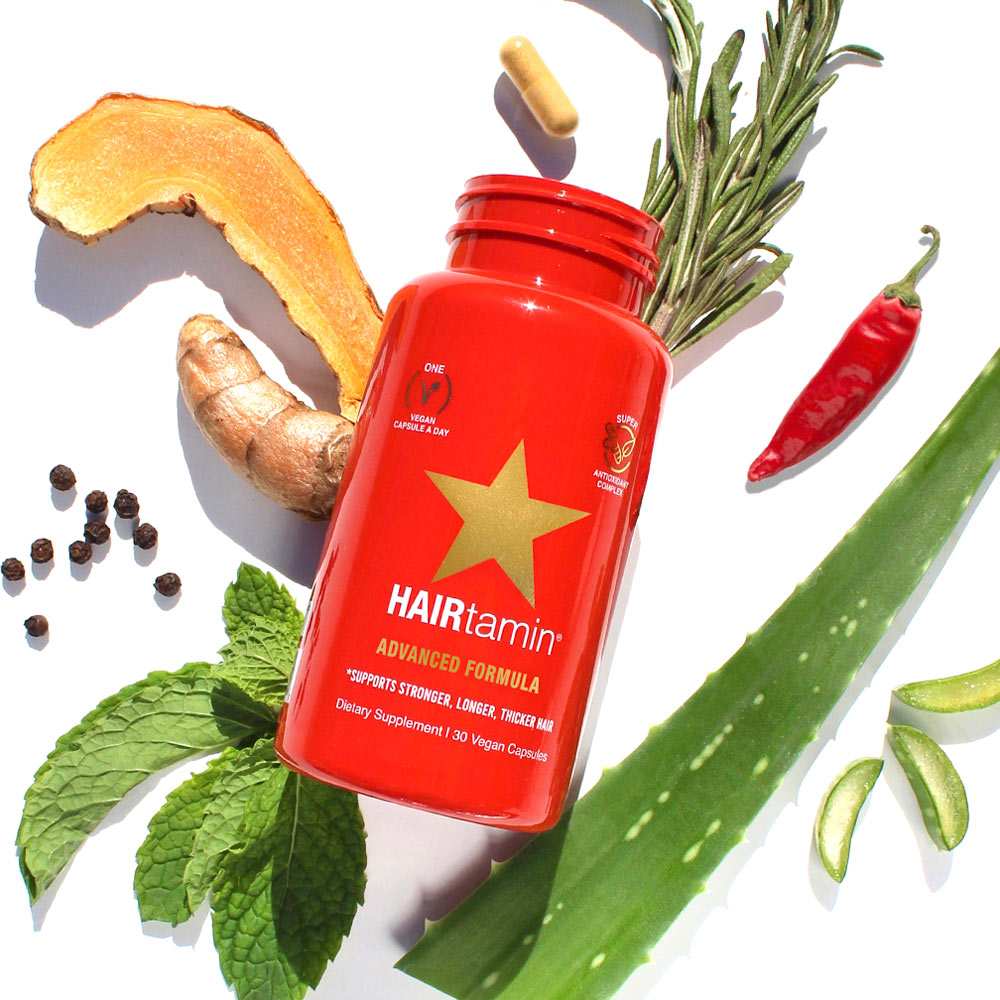 2. More Than Just Biotin
If you look at other hair supplements on the market, most contain biotin and maybe only one or two additional ingredients. But our bodies are complex and need so much more than that to grow & maintain stronger, longer, thicker-looking hair from the inside out. Our best-selling HAIRtamin Advanced Formula is formulated with 22 clean, clinically-studied ingredients that deliver real results in as little as 90 days with continued use. It's everything you want in a hair growth supplement without any of the artificial ingredients and potentially toxic binders, fillers, preservatives and parabens that our bodies certainly DON'T need.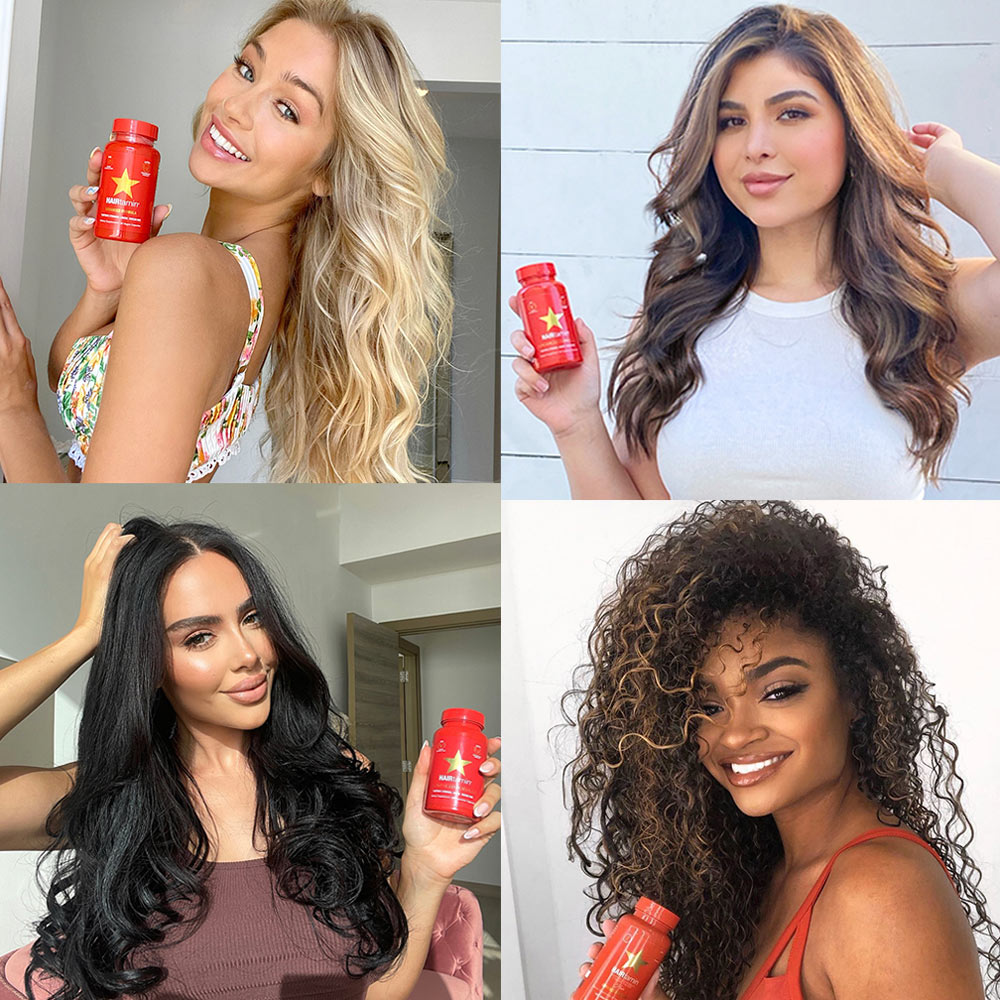 3. Effective For All Hair Types
Whether your hair is curly, coily, wavy, straight, fine or coarse, HAIRtamin is proven to work on all the different and beautiful hair types, textures and ethnicities.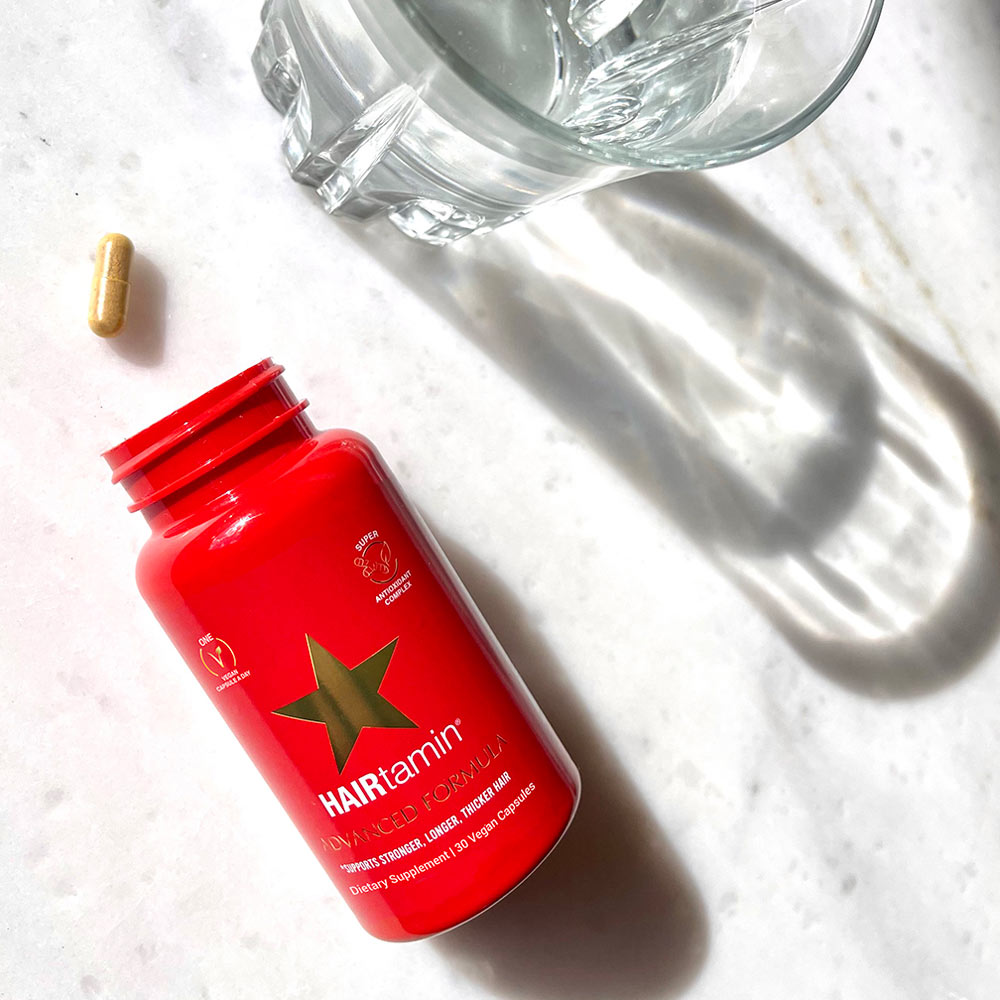 4. Just 1 A Day
Who wants to swallow 3 to 4 pills a day, much less remember to take them? Unlike other hair growth vitamins on the market that require this amount in a day (often times, suggesting to take half in the AM and half in the PM, the HAIRtamin dosage is just 1 easy-to-remember and easy-to-take vegan capsule that you can take at any time of the day. Now that's convenience!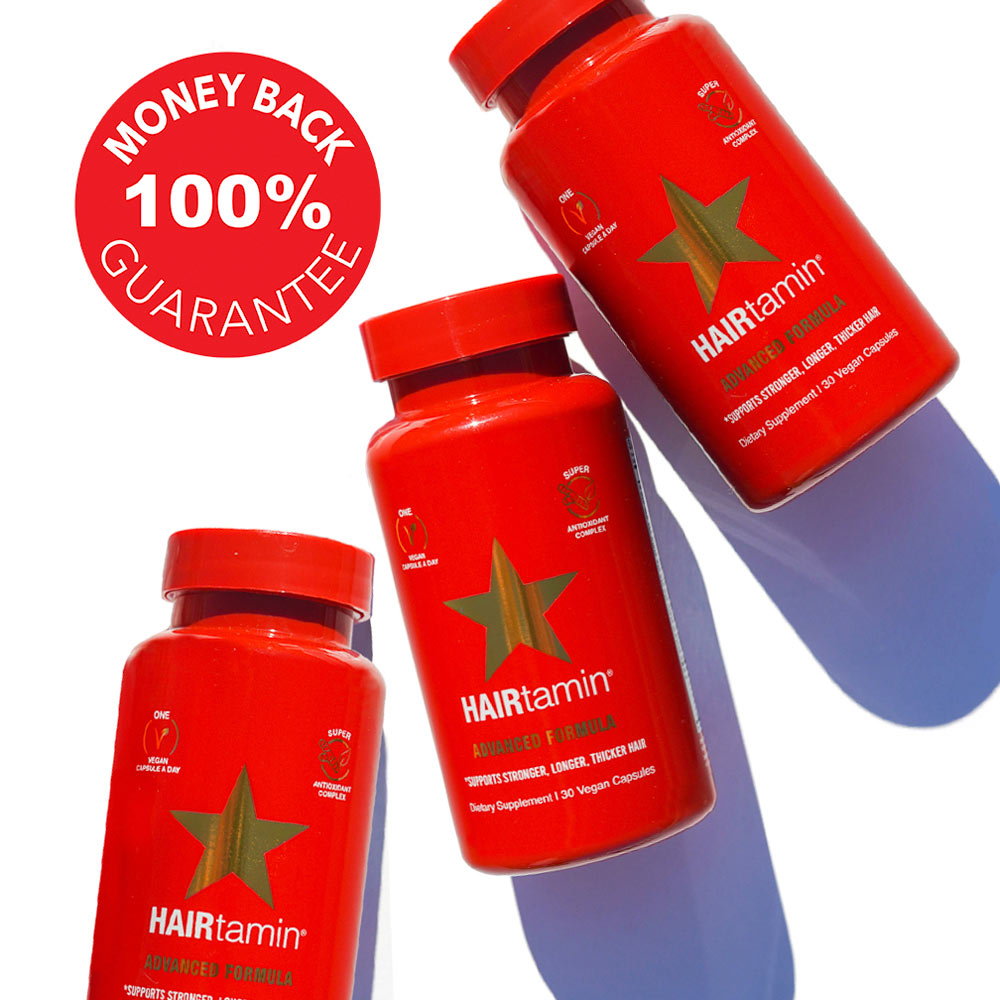 5. 100% Money Back Guarantee
How good is a product if it doesn't work? Well, we're so confident that you WILL see noticeable results after 90 days that we offer a FULL Money Back Guarantee! That means, you can try HAIRtamin completely risk-free for as long as you want and if you are not personally satisfied with your individual results or simply can't commit to the process, you can get your money back, no questions asked! 
Millions of Bottles Sold to Date!
Advanced Formula

1 Month Supply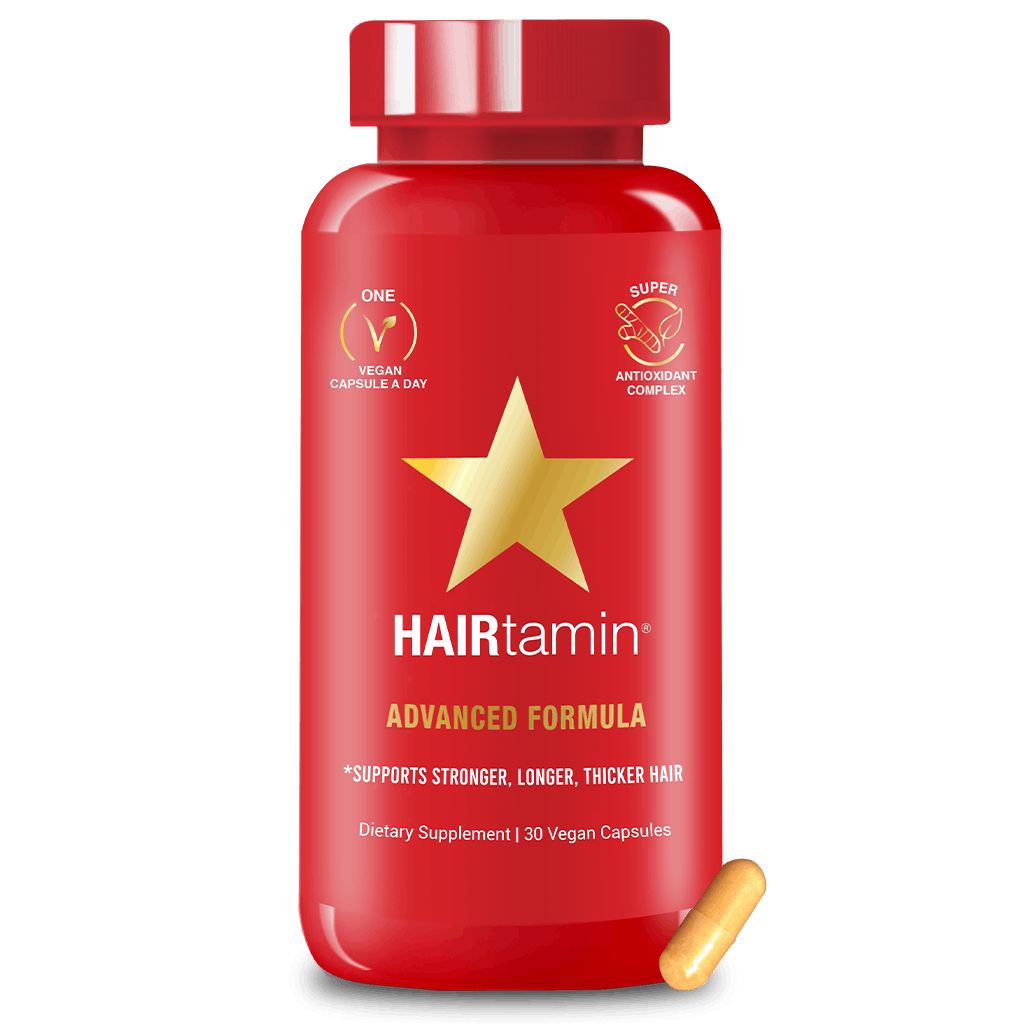 5,600+ 5 Star Reviews
A one month supply of our best-selling hair growth formula.
Regular price:
$26
Sale price
now
$20.80
100% Money Back Guarantee
3 x Advanced Formula

3 Month Supply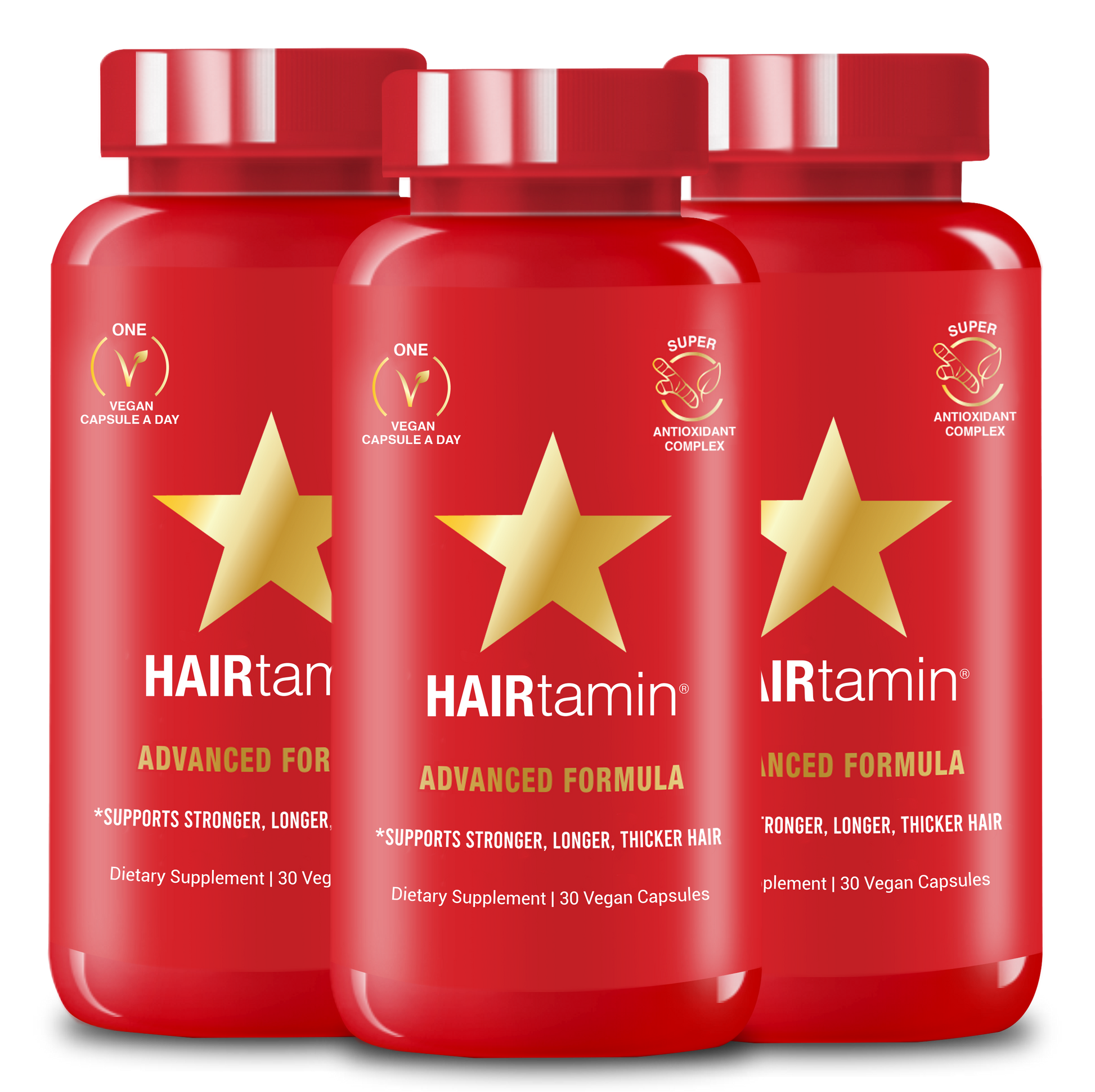 5,600+ 5 Star Reviews
The ideal amount you need to see results.
Regular price:
$78
Sale price
now
$49.60
100% Money Back Guarantee
6 x Advanced Formula

6 Month Supply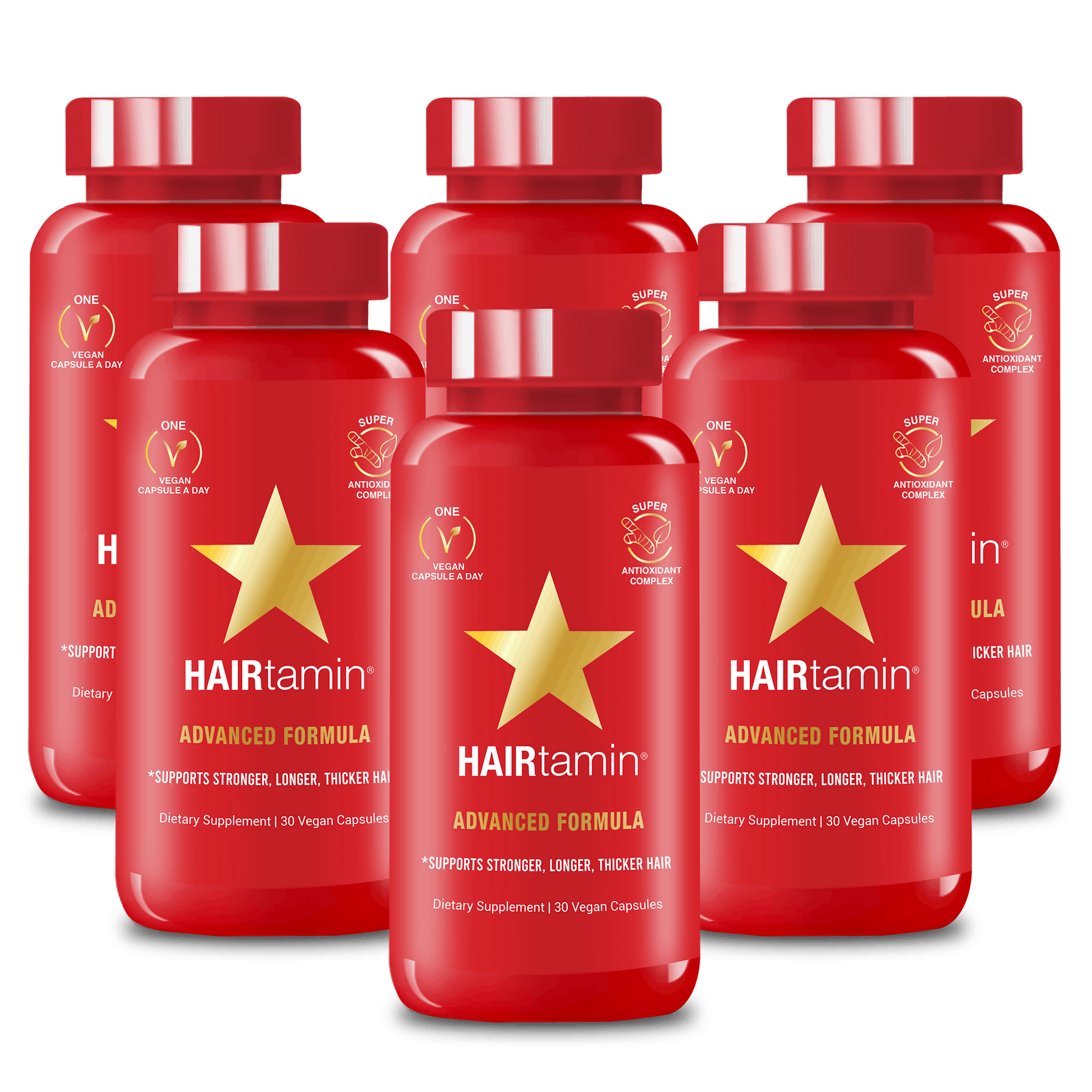 5,600+ 5 Star Reviews
You're committed to your hair goals and want to grow and maintain stronger, longer, thicker hair. Best Value!
Regular price:
$156
Sale price
now
$93.60
100% Money Back Guarantee
Questions
When will I see results?

Every person's hair journey will vary, but on average, our customers have reported noticeable results after 60 days of continued use. To ensure your HAIRtamin journey is a success, remember to take your vitamins regularly, drink plenty of water, use gentle yet effective hair care products (see our BIOTIN SHAMPOO + CONDITIONER) limit the use of heat styling products and get regular trims.
Will advanced formula work on my hair type?

Advanced Formula works on all hair types and textures.
Will I grow hair on other parts of my body?

The hair on your body does not grow in the same manner as the hair on your head. Hair follicles on the body get a molecular signal to only grow to a certain point. This differs from hair on the head, which can continuously grow. HAIRtamin only stimulates hair growth in existing follicles and not in otherwise hairless areas.
Can pregnant or nursing mothers take advanced formula?

Always consult with your doctor before starting any new dietary supplement-especially when you have a pre-existing health condition and/or are pregnant. While our ADVANCED FORMULA and GUMMY STARS are generally considered safe by doctors, we created HAIRtamin MOM specifically for expecting and postnatal women. It supports you, your baby, and yes-YOUR HAIR! It's still just 1 vegan capsule a day and loaded with essential nutrients you and your baby need to grow. You can find our ingredient list here.
What is the difference between advanced formula and gummy stars™?

The Advanced Formula contains a powerful mix of vitamins, minerals and antioxidants that help stimulate healthy hair growth. If you prefer to take your vitamin in gummy form, our The Gummy Star vitamins are also a great choice and have the same objective, help you achieve healthy beautiful hair! While both formulas contain 5000 mcg of Biotin along with a powerful antioxidant complex, the capsules are slightly more potent containing a few more vitamins and herbs in a higher dosage.