BLOATamin® is a clean, synergistic blend of organic herbs & super fruit-derived digestive enzymes that target common food & hormone-related digestive issues including bloating, gas & stomach pain while helping to reduce water retention. 
Targets hormonal & food-related bloating, gas & discomfort

Supports a healthy digestive system & breakdown of food

Helps reduce water retention for healthy weight management

Helps relieve heartburn & indigestion
BLOATamin Subscription Program Info
Here's why you wanna subscribe
Clean & effective Ingredients
To help de-bloat, support healthy digestion & reduce water weight
Organic Sumac

Contains polyphenols and flavonoids to reduce gas, bloating & upset stomach

Ginger Root

Helps reduce inflammation, cramping, gas and nausea

Organic Parsley

Mild, natural diuretic to help reduce excess water weight

Acai Berry

Helps cleanse the digestive system and fight bloating and constipation

Organic Peppermint

Helps relieve period cramps, bloating & abdominal discomfort with its cooling and muscle-relaxing properties

Bromelain / Papain

Super fruit-derived digestive enzymes to help break down carbs, proteins and fats for better digestion and a flatter tummy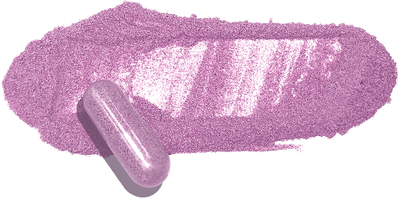 How to Take
Take 1-2 capsules every day for better digestion (do not exceed 4 capsules a day)
*each bottle comes with 30 capsules
Best taken right before, during or after meals
Don't like swallowing pills? Open the capsule and pour it into your favorite drink, smoothie, or meal!
Questions
What is BLOATamin®?

BLOATamin® is a synergistic blend of 11 herbs and super fruit digestive enzymes that target common food and hormone-related digestive issues including bloating, gas, stomach pain and discomfort. Each vegan capsule is packed with natural plant extracts that are easily recognized by the body to help speed up the breakdown and digestion of foods, while reducing water retention for a flatter tummy and healthy weight management.
How do I take BLOATamin®?

Take 1-2 capsules before, during or after meals (do not exceed 4 capsules a day).
How quickly does BLOATamin® work?

How quickly BLOATamin® works depends on your unique body, health, genetics, diet, etc. Everyone will respond slightly differently to BLOATamin®. Some have reported noticing results right away, while for others, it can take anywhere from 2-6 weeks before seeing and feeling noticeable results.
Can I take BLOATamin® with other supplements?

We recommend checking with your doctor to see if BLOATamin® is compatible with your current medications and/or dietary supplements. BLOATamin® can effectively be taken along with other HAIRtamin supplements, as our products are designed to work together for full-body care.
How can we help?
We're here for you. Chat with our customer support team Monday - Friday 8 am - 5 pm PST.
BLOATamin Ingredients Panel
Supplement Facts
Serving Size 1 Vegan Capsule
Servings Per Container 30
IngredientAmount per serving% Daily Value
Proprietary Blend
700 mcg
*
Bromelain
Papain
Lipase
Ginger (root)
Organic Peppermint (leaves)
Organic Parsley (leaves)
Fennel (seed)
Organic Chamomile (flower)
Cumin (seed)
Organic Sumac
* Daily Value not established.
Other Ingredients: Hypromellose (vegetable capsule), rice
Does NOT contain the following allergens: dairy, eggs, fish, wheat, crustaceans, tree nuts, peanuts, soy